After the Absolute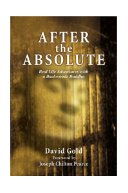 This Book @ Amazon.com
(From $23.95)
This Book @ Amazon.ca
(From $CAN 32.64)
This Book @ Amazon.co.uk
(From £15.95)
Related Products (usually books and/or movies)
= Amazon.com   |   
= Amazon.co.uk   |  
= Amazon.ca.
Other Books by David Gold listed on BestSpirituality.com
No book found.

Quotes & Excerpts
Warning
: file_get_contents(https://graph.facebook.com//quote/200.htm): failed to open stream: HTTP request failed! HTTP/1.1 400 Bad Request in
/home/common_NEW/quotes/showquotes.inc
on line
19
The mistake people make is to wait for something to happen to them before they begin searching. They want the voice of God, or something, to tell them to get started. Or maybe they know they should be doing something but they procrastinate, hoping that tomorrow they'll have more conviction and be more determined. What they forget is there may be no tomorrow for them.
By Richard Rose
| comments
Rate this quote:
Rating: 8.5 | Votes: 12
The ego is the single biggest obstruction to the achievement of anything. Between-ness is the act of acting without ego. You act, but you are not the actor. You do things, but you are not the doer--and you know you are not the doer. It's the ability to hold the head at a dead standstill in order to effect certain changes. You desire the change, but you do not care if it comes to pass.
By Richard Rose
| comments
Rate this quote:
Rating: 8.5 | Votes: 16
BestSpirituality.com Visitors' Reviews / Comments
No review / comment found