Awakening the Buddha Within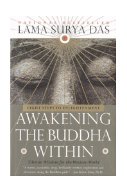 This Book @ Amazon.com
(From $10.25)
This Book @ Amazon.ca
(From $CAN 20.27)
This Book @ Amazon.co.uk
(From £9.55)
Related Products (usually books and/or movies)
= Amazon.com   |   
= Amazon.co.uk   |  
= Amazon.ca.
Other Books by Lama Surya Das listed on BestSpirituality.com
No book found.

Quotes & Excerpts
No Quote Found
BestSpirituality.com Visitors' Reviews / Comments
Submitted by Unknown
Reading now. Awesome. I was never that inspired by Buddhism before -- now I'm starting to "get" it, and it's glorious. Recommend Thich Nhat Hanh's books as well.