The Messiah Seed Volume I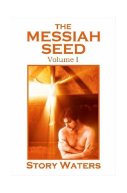 This Book @ Amazon.com
(From $79.02)
This Book @ Amazon.ca
(From $CAN 97.19)
This Book @ Amazon.co.uk
(From £98.28)
Related Products (usually books and/or movies)
No Similar Book Found

Other Books by Story Waters listed on BestSpirituality.com
Quotes & Excerpts
Know that you can not help but judge. What you then do with your judgement is the choice.
By Story Waters
| comments
Rate this quote:
Rating: 8.17 | Votes: 6
When you are standing at a crossroads in your life, realize that the greatest block that you can put in front of your Self is the idea that there is a 'right' choice.
By Story Waters
| comments
Rate this quote:
Rating: 8.33 | Votes: 3
BestSpirituality.com Visitors' Reviews / Comments
No review / comment found